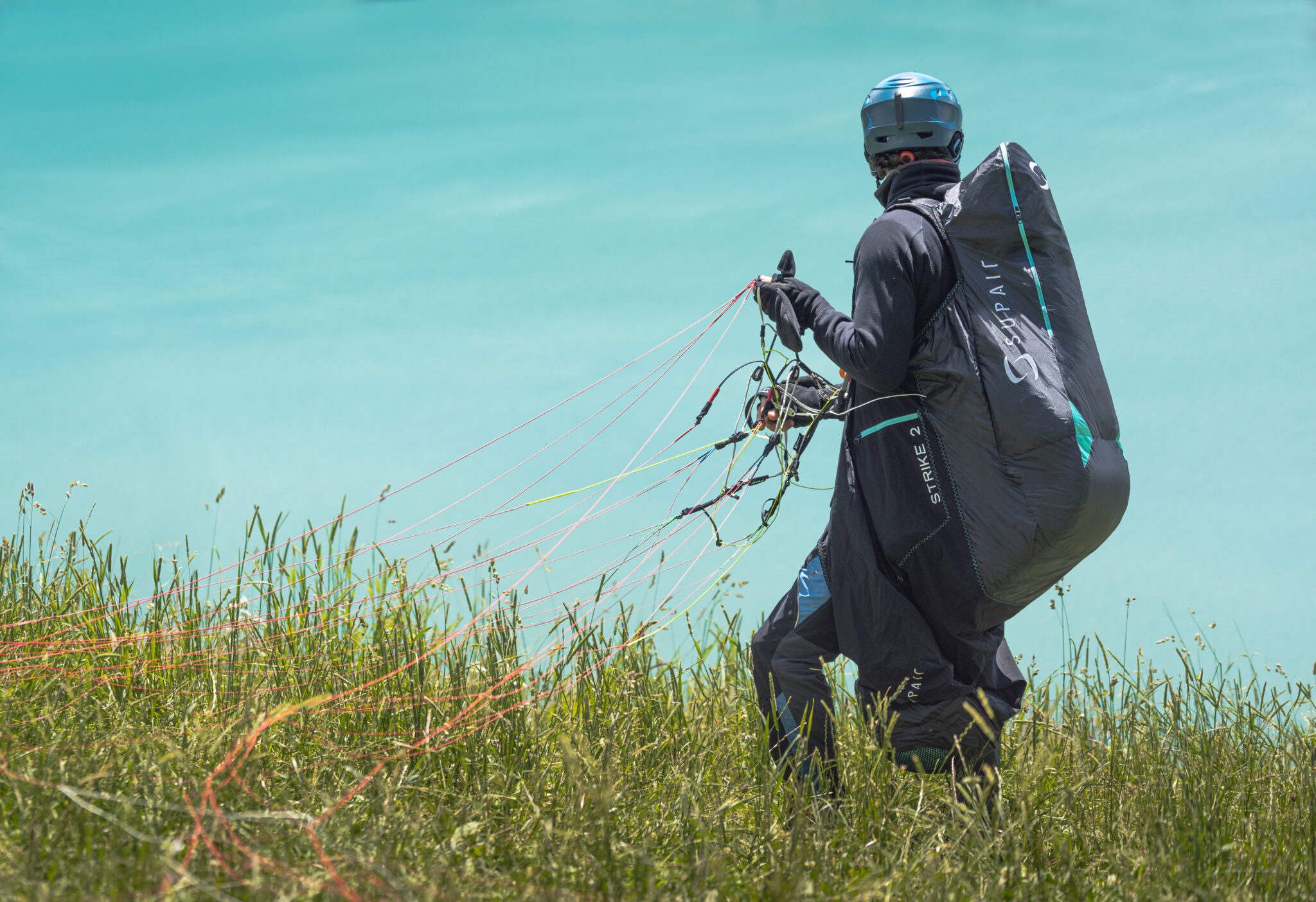 Equip yourself for the bivouac flight
If you are a hike&fly lover, you must have heard about bivouac flight. This practice mixing hiking, paragliding and one or several nights outdoor attracts the curiosity of many pilots.
Supair has a long story in the world of bivouac flight. Indeed, this adventure started with Pierre Bouilloux, a true enthusiast and pioneer of the discipline, when he began to design equipment dedicated to bivouac flight in the 1980s.
Today, Supair carries on Pierre's legacy and experience by continuing to develop lightweight, high-performance products to share his love for the discipline with pilots around the world. This passion for the freedom of bivouac flight is at the heart of Supair's DNA and is reflected in our lightweight harnesses and gliders to accompany you on your adventures.
In order to start bivouacking with confidence, you must first understand that everything is a matter of compromise between weight, compactness, comfort, simplicity and safety, whether it be in your choice of itinerary or equipment.
Today, we propose to take you to the discovery of this discipline to help you to prepare yourself at best before the departure!
Where to start?
The bivouac flight with a glider is a practice which offers a great freedom of adaptation of the program according to the level of each one. It is not necessary to go on a week-long expedition in remote areas to enjoy this experience. Even one or two nights in the vicinity of your usual flight site can be enough to gently initiate you and discover the joys of bivouac flight in complete safety.
By informing yourself on the existing routes around your home, you can start bivouac flight in a known environment and that you are used to be around and thus eliminate some difficulties to focus on the new aspects of the practice: manage your level of fatigue, analyze the conditions, locate your spot for the night, choose your takeoff of the next morning, find your route of rando....
If you lack inspiration for your first routes, we suggest you take a look at ourFLY TOPO. Each episode presents an easy and accessible route to learn how to practice bivouac flight safely.
For each itinerary, our pilots not only present you the routes, but also give you advice, recommendations and things to avoid to guarantee you serene outings to leave only room for pleasure and discovery.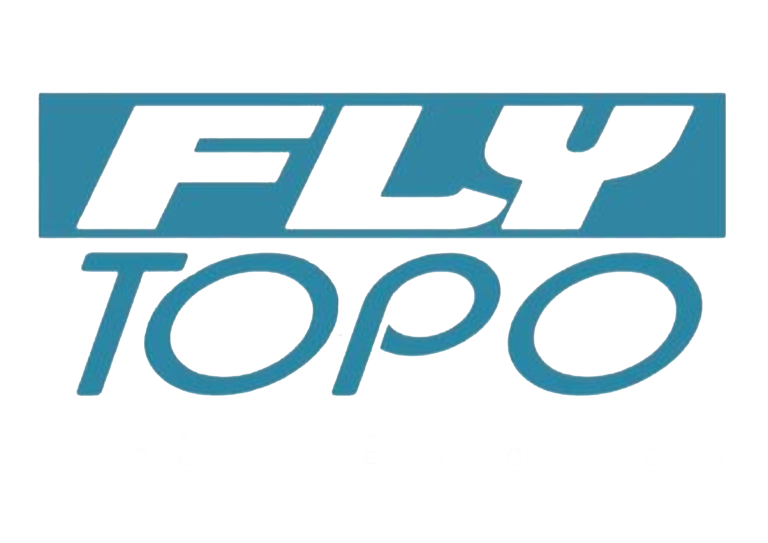 You already practice the flight bivouac ? Thanks to the FLY TOPO contest, the next episode will give you the chance to express yourself ! Propose your itinerary and try to win your STEP Light and the realization of your FLY TOPO episode !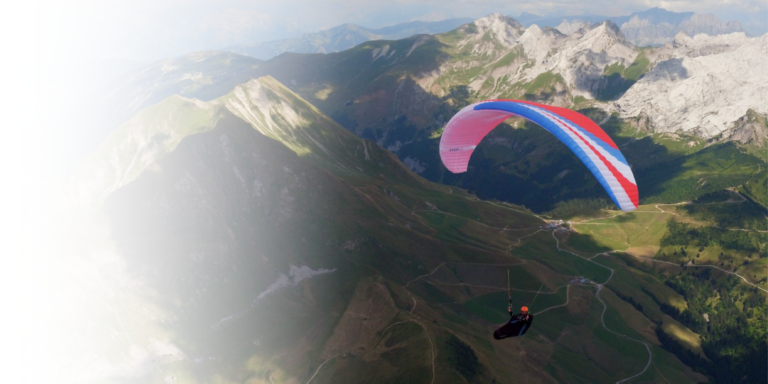 What are the prerequisites?
The steps of a bivouac flight are quite simple: walk (more or less long) and fly (more or less far) to finish with a night in the wild before starting again the next day.
If the concept is quite simple on paper, the practice of bivouac flight requires a good level of skill in piloting as well as good knowledge in analysis of aerological conditions. 
Indeed, even if you analyze the forecasts beforehand, the conditions of flight change every day, so you must be able to follow their evolution to never let yourself be surprised. This is the key to a successful bivouac flight: anticipation. 
Whatever your plans, being able to anticipate the weather, the aerological conditions and the topography of the terrain you will encounter is essential to being well prepared and practicing serenely.
The same goes for equipment preparation. Anticipating your equipment needs will allow you to get off to a good start, and that includes your flying equipment.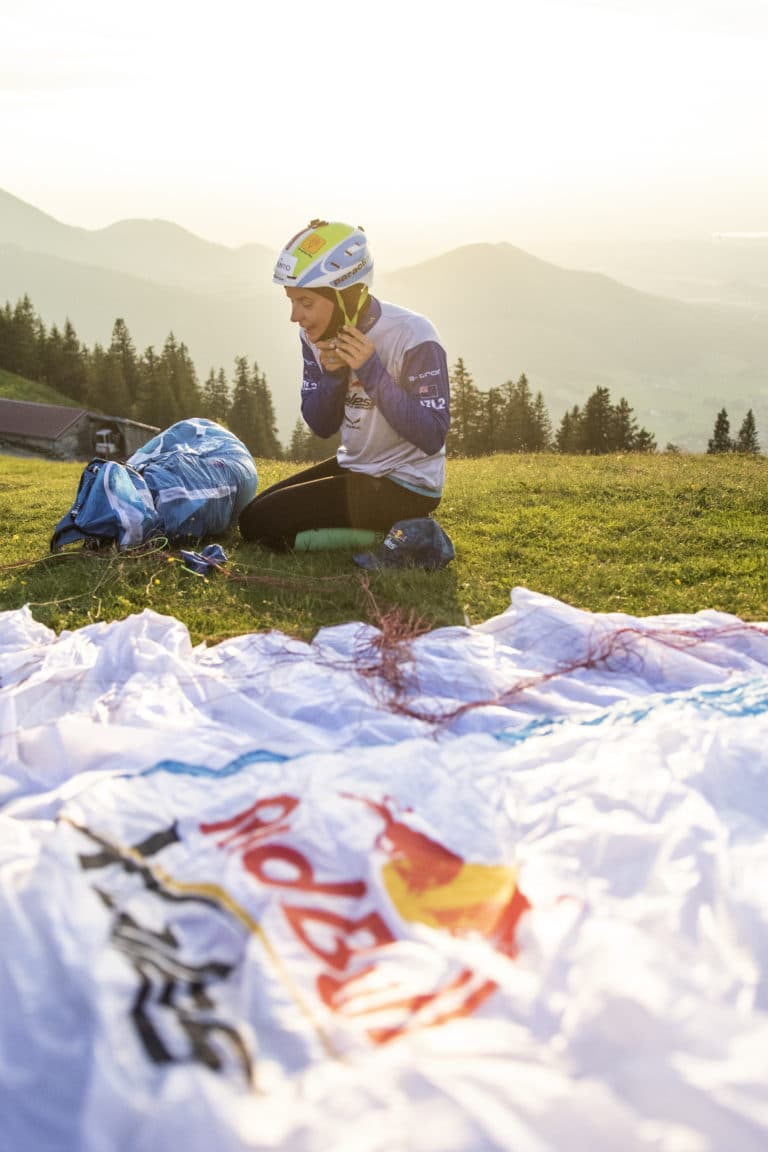 The different criteria for your harness of bivouac flight
When you are about to practice bivouac flight, the preparation of your equipment is crucial and should not be neglected. In this article, we will focus on the choices related to harness and see how to adapt your equipment to the practice of bivouac flight.
As we said earlier High, it's all about tradeoffs. Depending on your skills and your project, you will need to be able to juggle weight, compactness, comfort, simplicity and safety. Indeed, as soon as you favour one of these criteria, it impacts one or more of the other four. You need to find the right balance according to your needs and priorities.
To go into detail, we will illustrate our explanations with the STRIKE2our harness designed for bivouac flight and Hike&Fly. Since this harness is modular and adaptable according to the conditions in which you plan to use it, it will perfectly illustrate the way your practice of bivouac flight influences your material preparation.
The STRIKE2 is an ultra-light cocoon whose objective is to combine comfort and lightness. Its modular accessorization allows you to favor one aspect or the other according to your needs by varying the compromise between the 5 criteria stated earlier.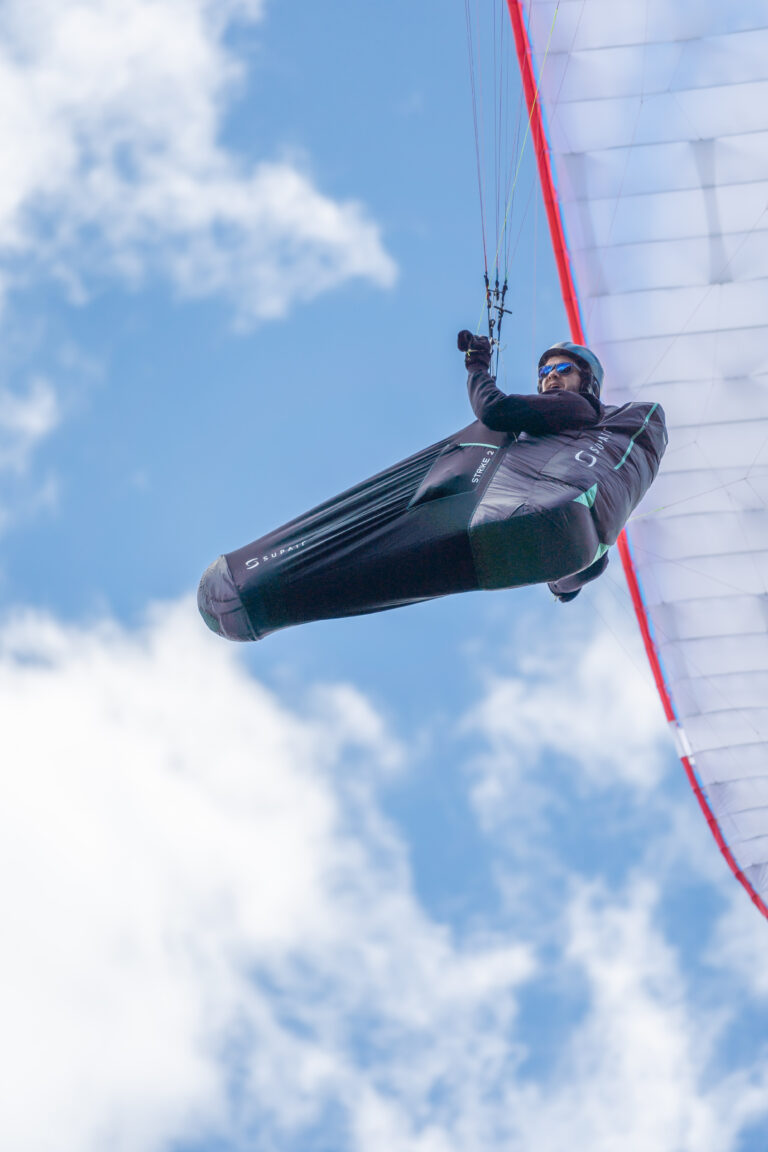 The weight criterion
The criterion of weight is the first one that comes to mind for most people when talking about bivouac flight. Every gram you save is a saving that you can use to be efficient in the walking phases or to carry more water or other supplies.
Although weight is one of the major aspects to watch out for when preparing your expedition, needs and criteria may vary from one pilot to another, and prioritizing weight may or may not be one of your priorities.
Let's take the example of the STRIKE2and its plate fromSeat. This mini carbon board which equips the harness can be removed to save weight. On the other hand, it clearly improves the precision of your piloting as well as the comfort of the seat when it is installed.
Therefore, even if you save 130g, ask yourself the question of compromise. Do you need to be as light as possible, even if it means giving up some comfort at flight or do you prefer to weigh down your bag slightly to have a more efficient harness in the air? 
We can't answer that question for you. It depends on you, your piloting skills and your ability to manage your level of fatigue, whether on foot or in the air. It is up to you to manage compromise between weight and comfort of flight.
Also keep in mind that water is one of the most precious resources during a bivouac flight. Between hiking and flight, the days are physically intense and your body needs to stay hydrated. So the weight you save on gear can allow you to carry more water with you to avoid running out.
Remember that 1 kg is equivalent to 1L of water and that the human body needs 2 to 3L of water per day depending on the effort made. Water management quickly becomes a central issue where anticipation plays a key role. The more containers you carry to transport water, the more autonomous you will be between water points but the heavier your bag will be.
Therefore, when you prepare your route, it is necessary to study the water points that you may come across along your route so that you never run out of this essential resource between each refueling point.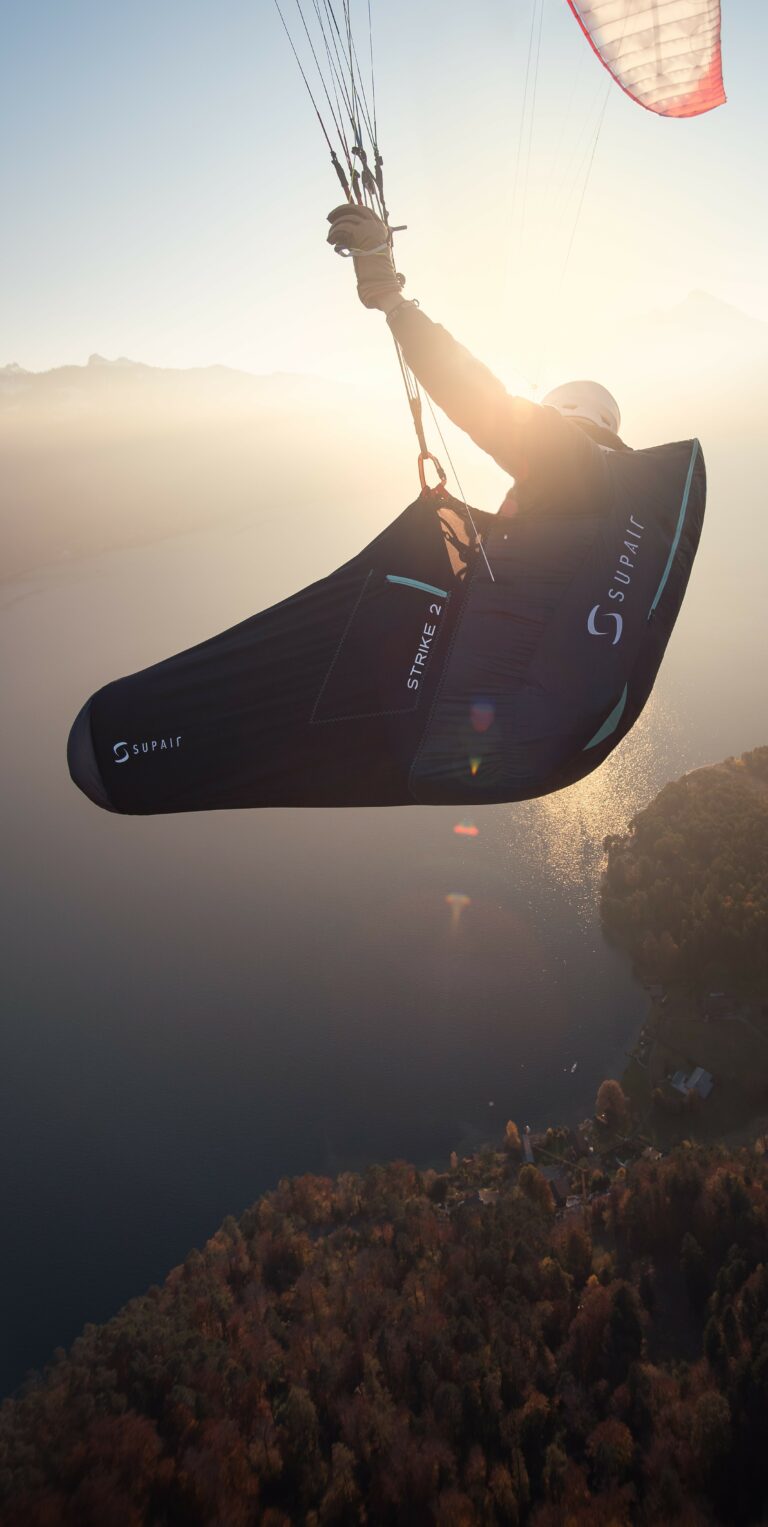 Compactness
Apart from the weight, the compactness of your equipment also plays an essential role on what you can take with you during your bivouac flight. And once again, the compactness will have an impact on the other criteria. 
To illustrate this point, we will take the example of protection. The STRIKE2 can be equipped with either a foam protection or a Inflatable protectionIn the second case, it is called STRIKE2 Air.
If you choose to use the foam protector, you choose the simplicity of use. Once the protection is well installed in its compartment, you don't have to worry about it during your entire expedition. On the other hand, the volume that the foam bag takes is not compressible.
On the other side, the You can deflate the inflatable protection after the flight to save space in your bag. It is a more compact option and just as safe, but you must inflate it before each flight and be careful each time you put it back in place for your protection to be efficient and effective in case of impact. It is therefore a more compact option that requires more rigor.
In any case, the harness is compatible with both protections while each of the options benefits from EN and LTF approval, so it's up to you to choose the configuration that best suits your level of compactness/simplicity compromise. 
Speaking of protection, we notice that many pilots decide to remove it completely to use its compartment as an additional pocket for storage . If this is possible on the STRIKE 2 please note that this configuration does not protect you in case of impact and removes the certification of the harness.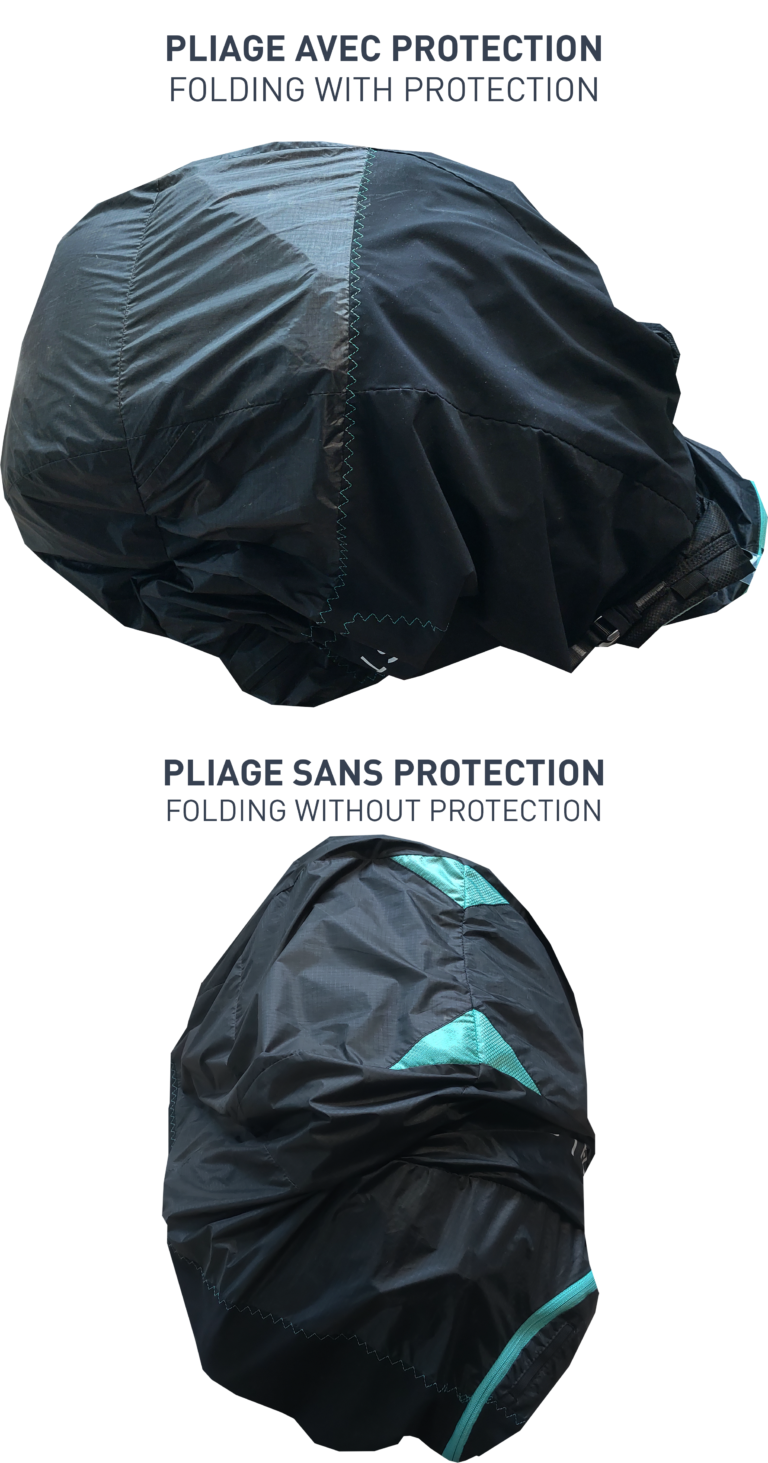 The comfort
Comfort is a key component to any successful bivouac flight, as it relates to all aspects of the practice: walking, flight and sleeping. While adding equipment to improve your comfort may add weight to your pack, sleeping comfortably allows you to recover more easily, while being comfortable in your harness when in the air allows you to limit your fatigue to potentially covering more distance in flight, and therefore, walking less. On the other hand, you need to be sure you can handle the load if you find yourself having to walk for a long time. As always, the balance depends on you, your skills in each area and your preferences. 
Conceding a little comfort to be able to carry more water is not a bad choice either, because as we explained earlier, finding water and never running out of it will be one of your main goals.
With that in mind, it's essential to play all the angles to get the best combination of comfort, lightness and practicality. 
When you prepare your STRIKE2 for a bivouac flight, you can manage the compromise thanks to several modular elements like the back plate for example. This last one greatly improves your comfort in flight. On the other hand, its rigidity prevents you from folding totally the harness on itself, it occupies then a little more volume in your bag.
The same goes for the seat plateIf you have a good resistance to fatigue and a fairly sharp level of piloting, then you can certainly do without it if you consider the weight gain interesting. On the other hand, if you wish to benefit from a more manageable and efficient harness in the air, conceding a little weight to carry the seatplate will be a more efficient compromise considering your skills.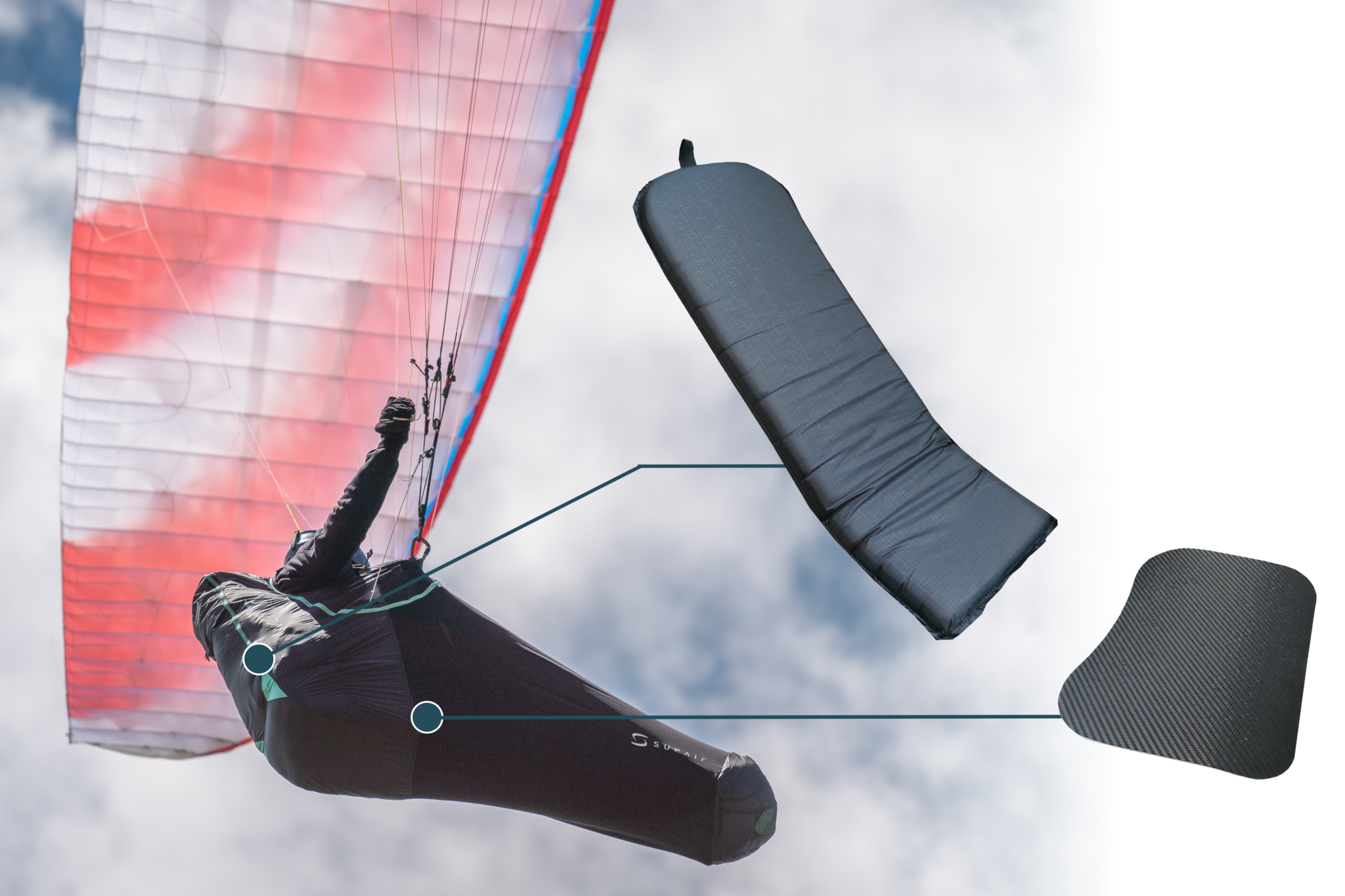 Passive safety
A harness like the STRIKE2offers everything you need to benefit from a high level of passive safety. Indeed, the parachute pocket placed in ventral allows you to install your rescueand to secure you in case you cannot control the exit of the flight domain. In the same way, the subcutaneous protection, whether it is in foam or inflatable protects you in case of shock.
Other parameters inherent to the harness influence passive safety. This is particularly the case for the harness structure. The STRIKE2 has been designed to be relatively stable for a harness of its category. It can also be flown standing up, which makes it particularly reassuring in turbulence and when approaching technical terrain.
As you can see, the choices you make in terms of equipment can represent a compromise that can also impact the level of passive safety of your harness. When you prepare a bivouac flight, it is up to you to evaluate the level of safety that you consider acceptable to equip your harness. Whether you choose to carry a rescue parachute or installing a subcutaneous protection or not, you are the only one responsible for your choices and must be aware of the risks that this may represent.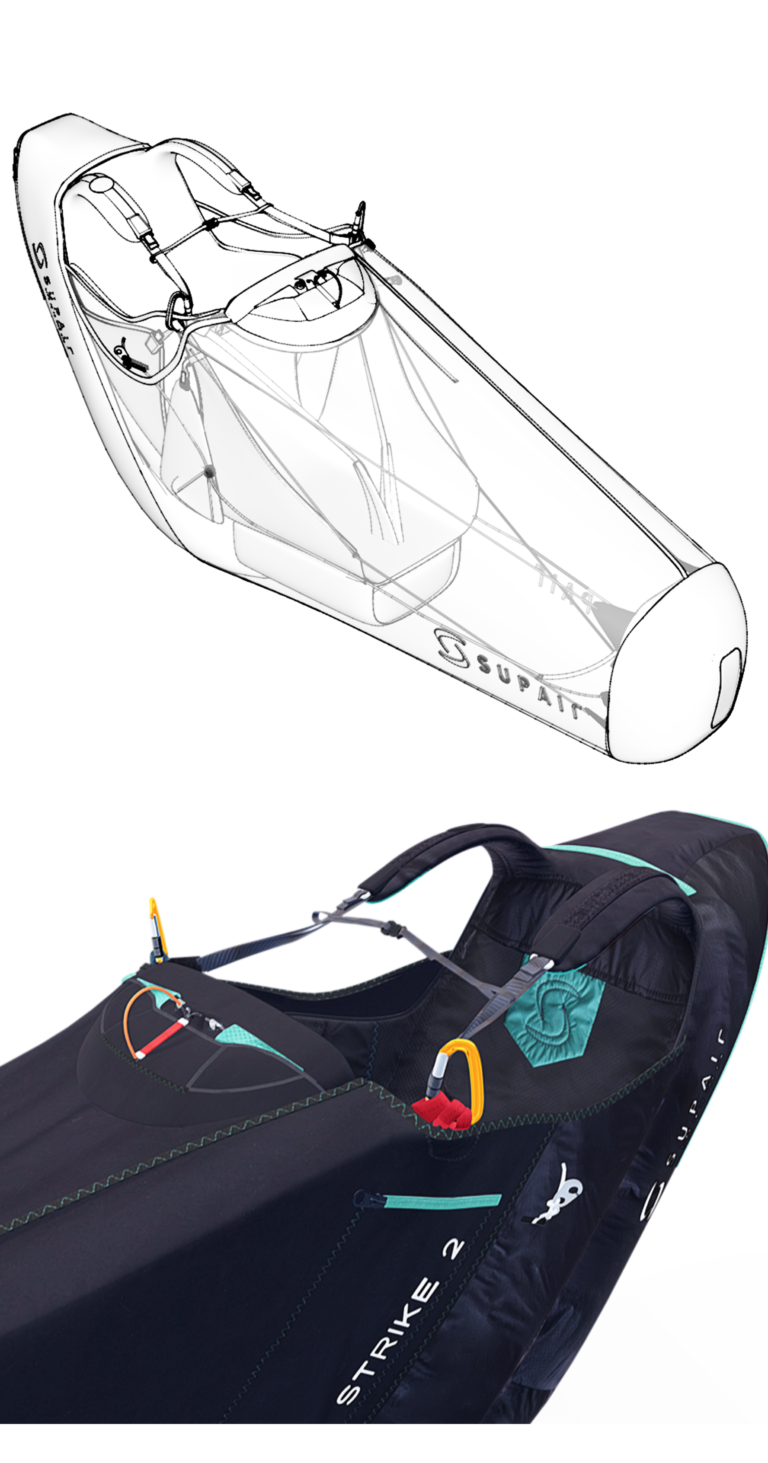 The simplicity of use
A bivouac flight is an experience that requires a lot of concentration as well as a good mental endurance. Managing all the aspects of the expedition calls for your rigor: the constant analysis of your environment, the preparation and handling of your equipment, the monitoring of your food reserves, the management of your fatigue... No element must be left to chance. 
Thus, it is important to simplify what can be simplified. This can be done, for example, by using a harness that is easy to use . It is by following this logic that the STRIKE2has been designed to be simple and easy to use, so as not to represent too great a mental burden for the pilot.
The adjustments of the speedbag are made with cord clamps to easily adjust the harness and modify the settings when necessary. The closure system is as simple as possible in order to limit the risk of error when attaching the pilot and to be as serene as possible during the pre-flight. The chest strap is attached directly to the carabiner on both sides. As soon as one side is closed with the carabiner locked, the pilot is safe. 
Note that to avoid the risk of forgetting to buckle up, some pilots choose not to open the harness and always put it on. If donning the harness is an option for you, you may want to consider using the Connectsfor the glider-harness connection. This option is just as secure as the carabiner and has the advantage of making your equipment even lighter. The use of Connects however, requires you to put on the harness, as they require more handling to open and close. This feature of the Connectreduces the number of manipulations during your installation in the harness and eliminates any risk of forgetting to close the ventral strap.
It's up to you to choose the right compromises with equipment that doesn't overload your mind and leaves you room to focus on the other aspects of bivouac flight.
The criterion Storage
This is the last but not least point we will deal with in this article: the storage. It is likely that you will go bivouac flying with a well loaded bag and you must make sure that all the material you take with you will fit in your harness at the time of flight.
We can only advise you to test your load beforehand on a hanging device in order to avoid any unpleasant surprises at take-off. But make sure not to load just any old way! Be methodical and strategic.
Indeed, it is not a question of storing any material in any pocket. The STRIKE2offers several storage spaces: a large back pocket, a subcutaneous pocket, a side pocket and a pocket under the cockpit. You'll need to make sure you load your gear so that your storage is practical and safe:
The back pocket offers a large volume, however, please avoid storing hard equipment such as a tent or stove in it and prefer soft equipment such as your sleeping bag, rucksak or a change of clothes. Indeed, in case of a sudden landing or an involuntary shock, a rigid equipment could be dangerous for your back and increase the risk of injury. It is wiser to place this equipment in the subcutaneous pocket under the thighs because it is a much less frequent impact zone and is better protected by the subcutaneous protection.
Also, be sure to distribute the weight of your equipment evenly between the storage areas at the rear of the harness and those at the front. If there is too much of a gap between the front and the back of the harness, the center of gravity is shifted and the harness may pitch or pitch up, which is neither comfortable nor efficient at flight. 
Finally, plan to keep everything that could be useful within reach at flight: instruments flight, snacks, water, radio, cell phone... The pocket under the cockpit is ideal for storing a portable battery to charge your instruments while the zipped side pocket allows you to keep a snack or your radio easily accessible.
In summary, be methodical in your storage and test it before you leave for your flight bivouac. The time you spend testing your organization will be time saved during your expedition and additional peace of mind.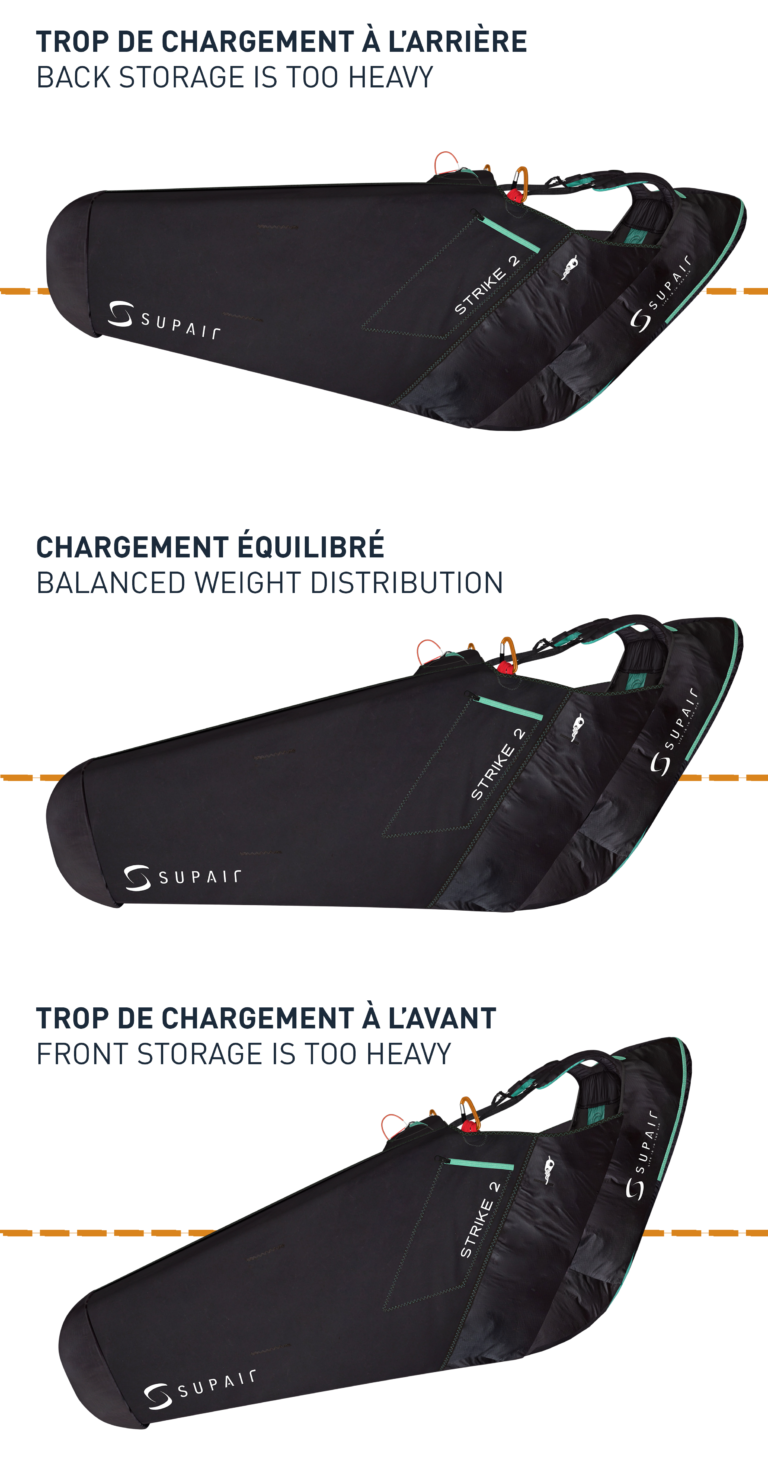 The STRIKE2 bonus!
To finish, here are some examples of possible configurations to adapt your STRIKE2 to the best.
These are only examples of combinations for information purposes. Feel free to accessorize your harness according to your needs and criteria!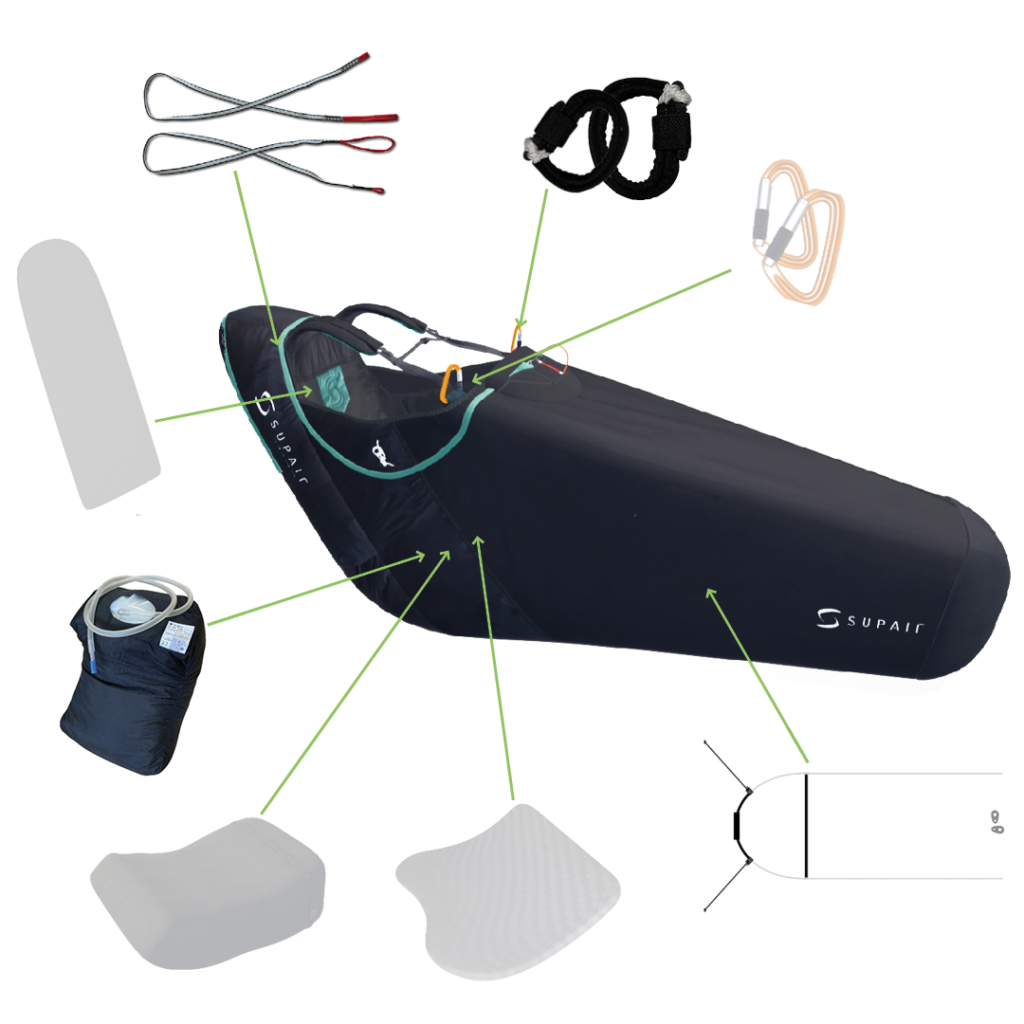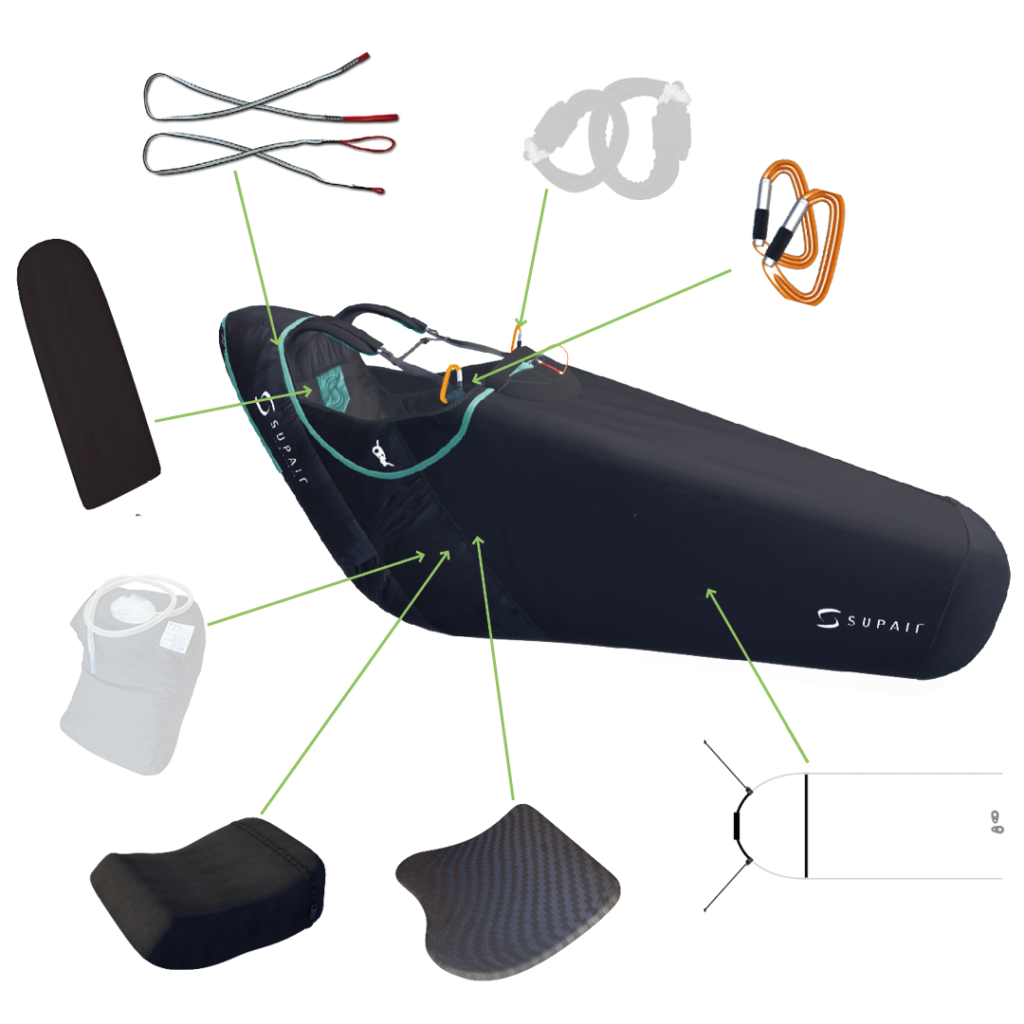 Some examples of configurations...
If your priority is lightness, whatever it takes, then here's a configuration that might work for you!
A configuration like this weighs from 1.85 kg!
If comfort and simplicity are the most important criteria, this example of a combination might be right for you:
Foam protection
Back comfort plate
Carabiners GRIVEL
Rescue risers to install a rescue parachute
Here is a configuration that can be positioned between the 2 presented above High. Halfway between lightness and comfort, it will surely make you happy:
Now, the preparation of your harness for the bivouac flight has no more secret for you!
Throughout this article, we have seen how much preparation and anticipation this practice requires, which are the watchwords for a successful expedition. You must know yourself and be able to evaluate yourself on the different areas that bivouac flight requires to adapt your equipment according to your level and the difficulty of your project.
The most important thing is to have fun and we hope that the advice we have given you in this article will allow you to embark on this adventure with confidence and to take full advantage of this unique practice which offers a privileged contact with nature. 
Remember to always respect the environment and the places you visit during your bivouac flights and to enjoy every moment of your adventure.
If you want to know more about our harness of bivouac flight, you can consult the page of the
STRIKE2 !