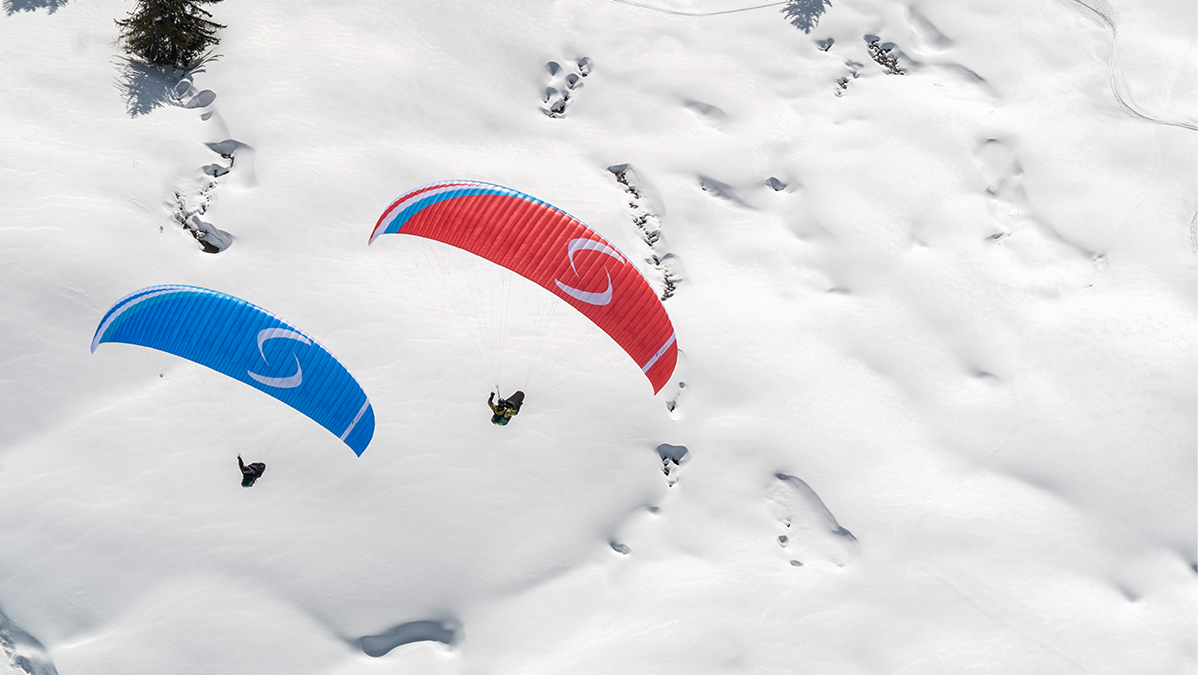 Winter paragliding: tips & tricks
The snow has arrived in our mountains, and while most people are getting their skis out of the closet, others are still braving the cold under their glider. Indeed, many pilots are not deterred by the winter.
However, flying in winter conditions is not always as easy as in spring or summer. That's why we've prepared a list of tips to help you enjoy the snowy landscape with peace of mind!
First of all, why fly in winter?
That's a good question! Why should we persist in facing the cold to go for a short flight when we could be warm under our blanket with a good book in our hands, or go for a ski or snowboard ride for the more daring. 
Indeed, flying in winter has many advantages that we don't necessarily think of at first.
The conditions are mild and calm to...
... enjoy!
If it is always possible to meet thermals in winter, they are however rarer and much less powerful than the rest of the year. Therefore, practicing the paraglider in winter allows to benefit from less turbulent conditions. So you can enjoy 100% contemplative flights!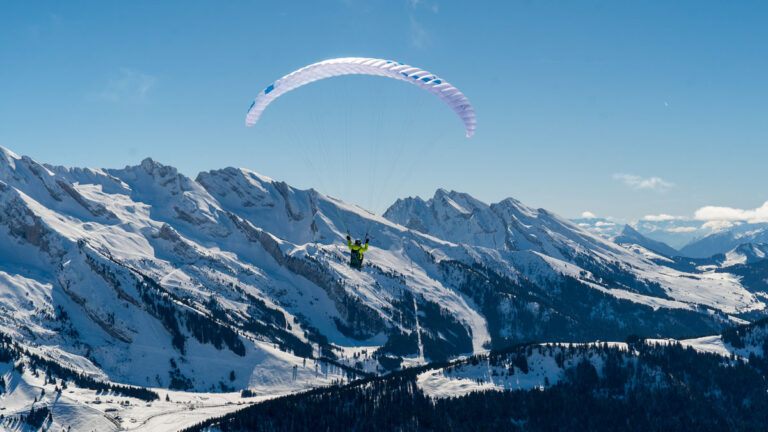 ... to improve your skills
At this time of the year, "less thermals" also means "shorter flights". What if winter taught you to love short flights again? 
If a few minutes of flight straight toLanding seems like a boring concept, remember that this is the perfect time to work on your technique. 
Multiplying flights means that you will experience many take-offs and landings, giving you the luxury of varying your techniques to perfect them:  reverse inflation, cobra... It is also an opportunity to practice maneuvers on flight : ears, pitching, speed range management... In short, the calm conditions of winter are a great opportunity to practice without being heckled by the thermals
In this season, you can also vary the practices: winter is known to offer beautiful soaring conditions, for example, and it is also the season of flight ski! In addition to being fun, these different practices of paraglider are ideal to train and improve the precision of piloting, so why deprive yourself?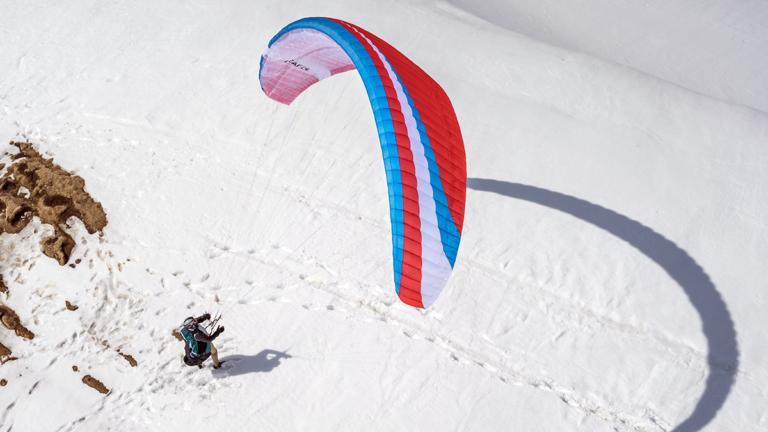 ... renew your equipment
If you are planning to change your equipment, this is the right time to do it! Because winter is also the perfect time to get familiar with a new wing or harness. 
Since the weather conditions are easier to anticipate, you can serenely accumulate flights to learn the behavior of your new equipment without fear of being surprised by big turbulences such as we could encounter in spring.
Thus, exploring the capabilities of your equipment in mild conditions will allow you to attack serenely the spring under a wing or in a harness that you already know on the fingertips!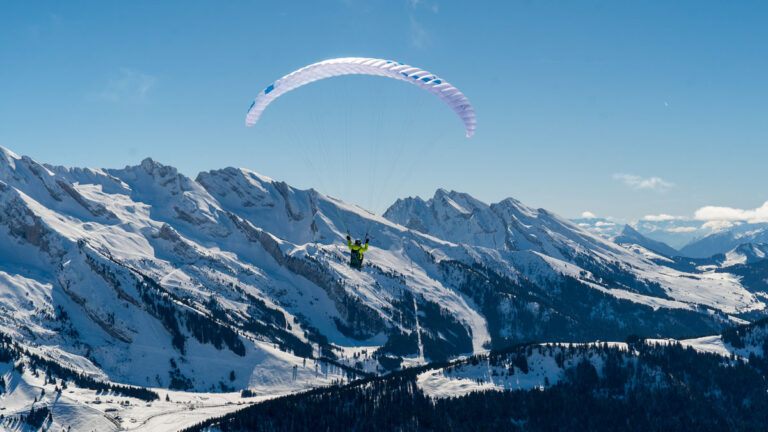 ...stay regular
Not flying in winter is synonymous with a break from flying for several months. If you wait for the return of the warm weather to get back in the air, you risk losing your flying reflexes, or at least, the getting back under a wing will be more difficult than if you had practiced regularly during the winter. 
In conclusion: flying in winter helps you stay safe under your wing and perform better in spring!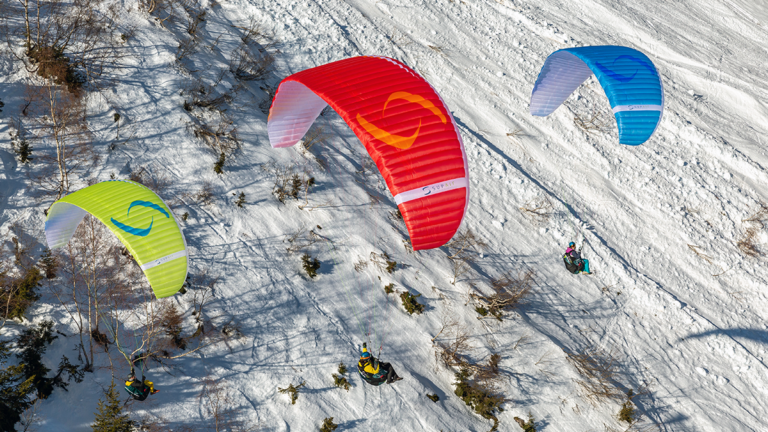 Now, let's talk about equipment...
...Managing snow
In winter, you will have to take-off and land on snow, or at least on wet ground, which will inevitably have an impact on your equipment if you do not take care of it properly. 
If the simple contact of your wing with the snow should not be enough to wet it, pay attention to the small snow blocks that can slip inside the cells. When you get home, this snow melts and wets your equipment.
If the amount of snow in the cells is too important, the weight of the snow can deform the airfoil of your wing. If it happens to you, you may be exposed to an unintentional drift of the wing or an increase in the angle of incidence, which could lead to a stall or a spin if you use too much break.
That's why, before flying or folding, remember to check your cells for snow, and remove it if there is any. 
Finally, taking off on snow can sometimes be complicated if the slope is a bit steep. Indeed, the wing may have a tendency to slide on the ground. To counterbalance this kind of problem, there are solutions to keep your wing in place such as holding pins. Sold with mountain wings like the the EIKO2these little accessories are connected to the top surface of the glider with a lark's head knot. Then, all you have to do is stick them in the snow so that the wing doesn't move despite the slippery terrain. The impulse you put on the takeoff to inflate your wing is enough force to unhook the pimples from the snow. Practical, isn't it?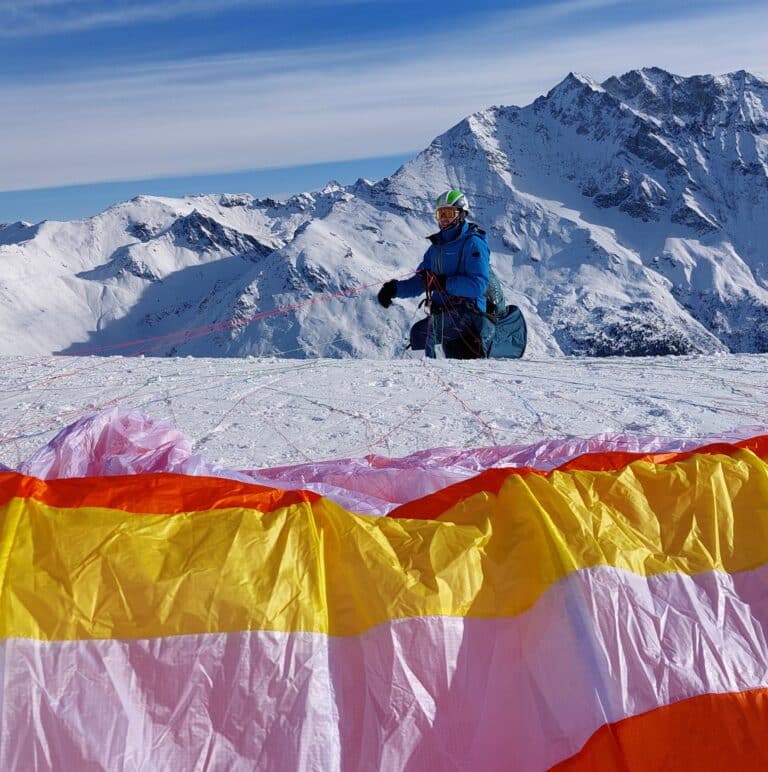 The components of the harness are not spared from snow either! Ice can get into the carabiner mechanisms and block the locking system. For your safety, check that your Carabiners is locked before each take-off.
As with carabiners, some harnesses with automatic buckles require just as much care : if ice gets lodged in the Loops, the buckle may not close properly. Again, pay close attention when you buckle up.
When you get home, unfold your wing. If you don't have enough place to spread it out, unfold it into a ball or open the compress bag or sock your wing is stored in to help the fabric dry. It is important to store your wing in a dry place, at room temperature and away from light. Do not leave it drying next to a heater or in a damp basement, for example. 
After a day of flight on the snow, also make sure not to store your harness in its bag if it is still wet. Indeed, it is never excluded that a block of snow slips into the harness during the pre-flight or when folding. To limit this risk, check the pockets of your harness and the airbag.
Finally, if you do a lot of takeoffs and landings in the snow throughout the season, it may be prudent to consider rescue parachute as well. Although it is normally kept safe in its locked reserve pocket, it is best to make sure to air it out and fold it up at the end of the winter season if you suspect that snow has crept into the compartment.
... cleaning and maintenance
As far as equipment maintenance is concerned, it is not uncommon to come across a little bit of dirt that may stain your equipment if the ground is snowy or wet. If you want to clean these traces, a clean cloth and fresh water are enough, do not use any aggressive cleaning product!
Also, keep in mind that repeatedly wetting and scrubbing a wing is not beneficial to the fabric either, as it could wear it out. So you don't have to clean every little stain as soon as you see one. Remember: a totally clean wing is a wing that doesn't fly!
Finally, snow and ice are two very abrasive elements for your equipment. It is therefore important to take care of your equipment by limiting unnecessary rubbing of the material against the ground and by regularly checking it in an approved center.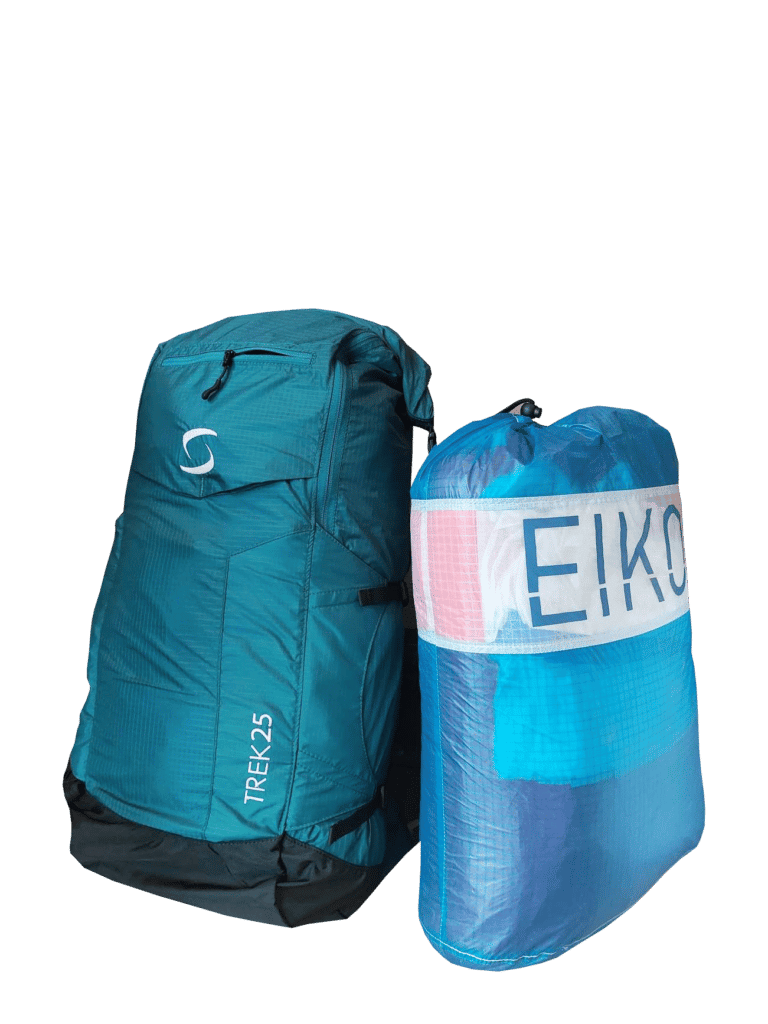 What about flying with skis ?
Mixing skiing and paragliding is one of the joys of winter. When the pleasure of skiing is added to that of flight, one can only want to start practicing !
...double sport, double skills!
If you have never tried skiing flight before, keep in mind that you must master both sports to be safe. Knowing how to ski is just as important as knowing how to fly, and neither skill should be overlooked.
...take care of your equipment
The edges of your skis are sharp and can damage your lines or the Fabrics of your equipment if you are not careful enough. 
When you put on your skis for takeoff, be sure to keep the lines away from the bottom of your skis. The same applies when you land your wing  or if it falls on you during a failed takeoff. 
If you think you have accidentally skied on the equipment, check design to make sure nothing has been damaged and take it to a professional workshop for a check-up if you are unsure. 
Also, when flying on skis, pay attention to the flight equipment you choose to use. For example, it is not advisable to use a harness that can be threaded, as running ski boots or crampons through the legstraps could snag and damage the fabric. 
Harnesses like the RADICAL4or the the EVEREST3have been designed so that the legstraps can be opened. This makes it easy to get into the harness , even in the mountains when you are wearing ski boots or crampons, and there is no risk of damaging the harness in this way.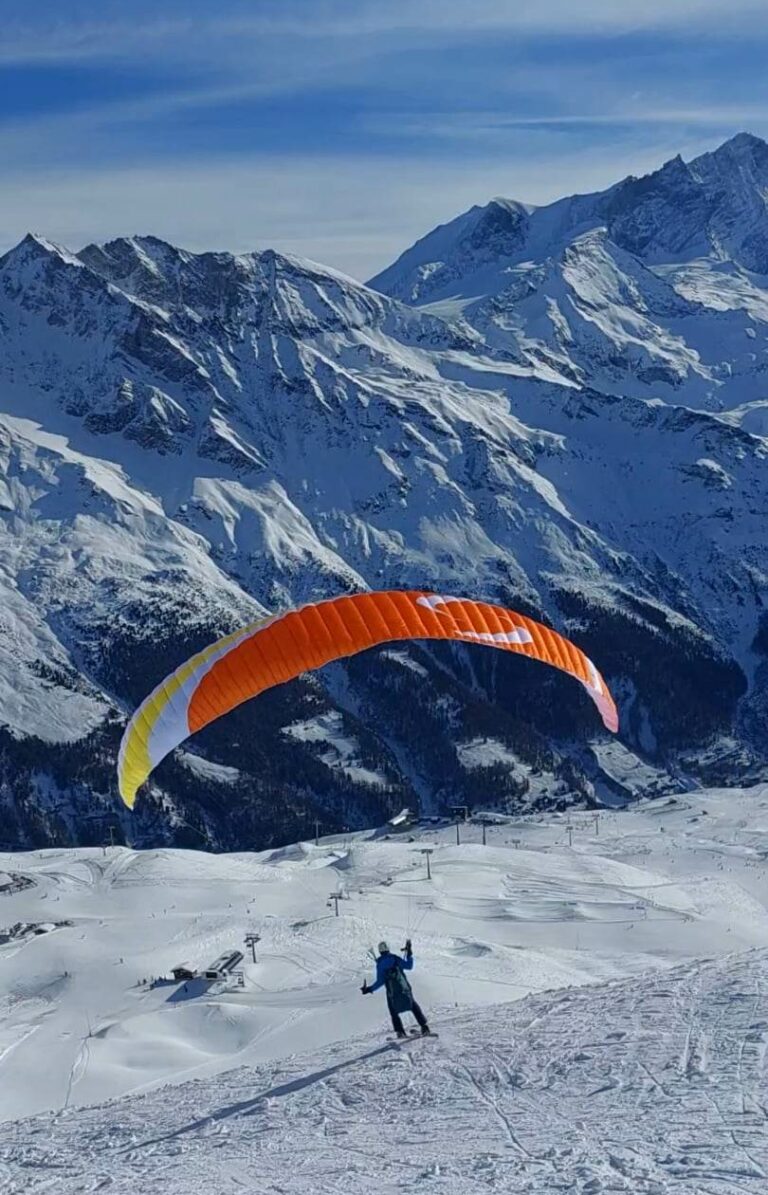 ...pay attention to your environment
Except for those who like to ski touring, flight is most often practiced in ski resorts. If the rotations in ski lifts are convenient and comfortable, it is still necessary to pay attention to certain points:
Make sure you have your skis on correctly! Unfortunately, it is not uncommon to see a ski wandering around on its own in the mountains after a pilot has lost it in the air. 
If the ski falls off the slopes, you may have some difficulty retrieving it, but it won't be any more serious than that. On the other hand, if you lose a ski above a busy area, the falling equipment can cause property damage, or worse, injury to someone. 
If checking your equipment at flight is essential, don't neglect checking your ski equipment either. 
Then, when you take the lifts, be sure to check Caution at Bending your equipment! If a line or a Strap comes out of your bag, it can get caught in the mechanisms of the lifts, so be careful when you put your equipment away...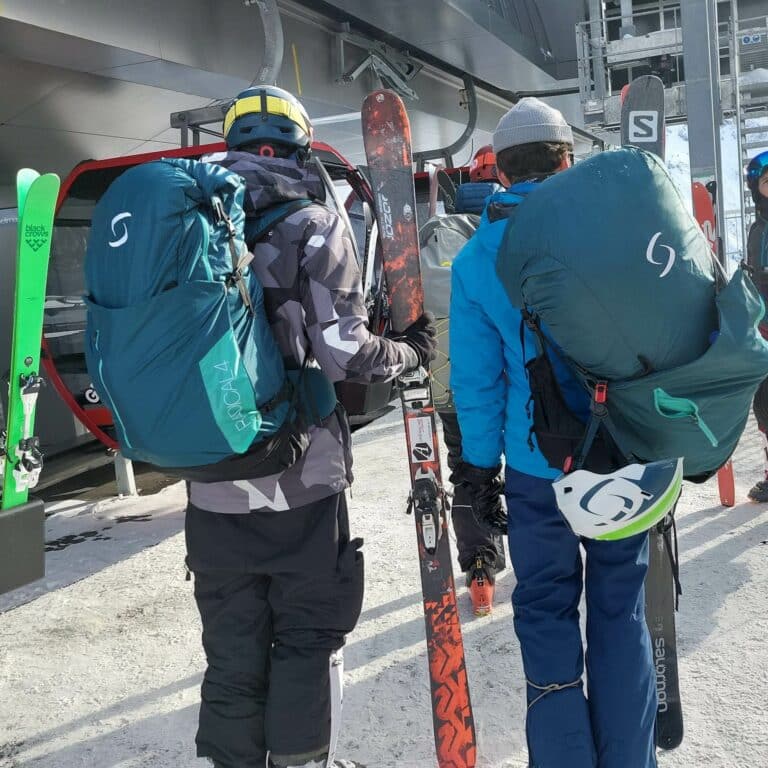 Covering yourself well is essential
Although this advise seems obvious, it is not enough to multiply the layers to be comfortable in flight. The goal is to stay warm while maintaining mobility, whether it's during takeoff or in the air.
...protect the sensitive parts
At flight, it is the extremities of the body that are most exposed to the cold: your hands, feet and face. But how do you protect them properly from the cold?
Using gloves that are too thick may reduce the feeling of tension in the controls, impacting your steering precision. In these cases, solutions such as heated gloves or sleeves down gloves are more advantageous to keep your hands warm while remaining efficient in piloting.
Next, protect your face! The mask and neckband combo works well for this. And if you have left space under your helmet, you might also consider wearing a beanie to keep your head and ears warm.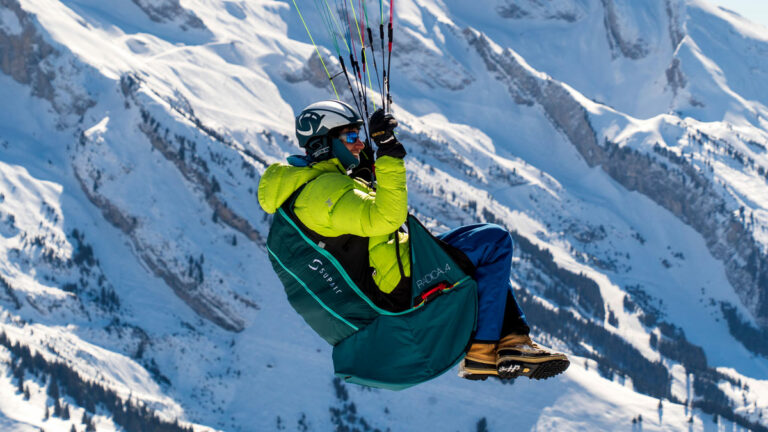 ...get warm and safe
Also, untangling your lines and setting up your equipment with thick gloves can be inconvenient during the pre-flight. You may want to consider taking thinner gloves with you while you set up your equipment. 
As for the feet, there is no miracle recipe: waterproof shoes and thick socks are the solution. If you have a harness cocoon, don't hesitate to use it during the winter! The speedbag is another barrier between you and the cold, so why deprive yourself?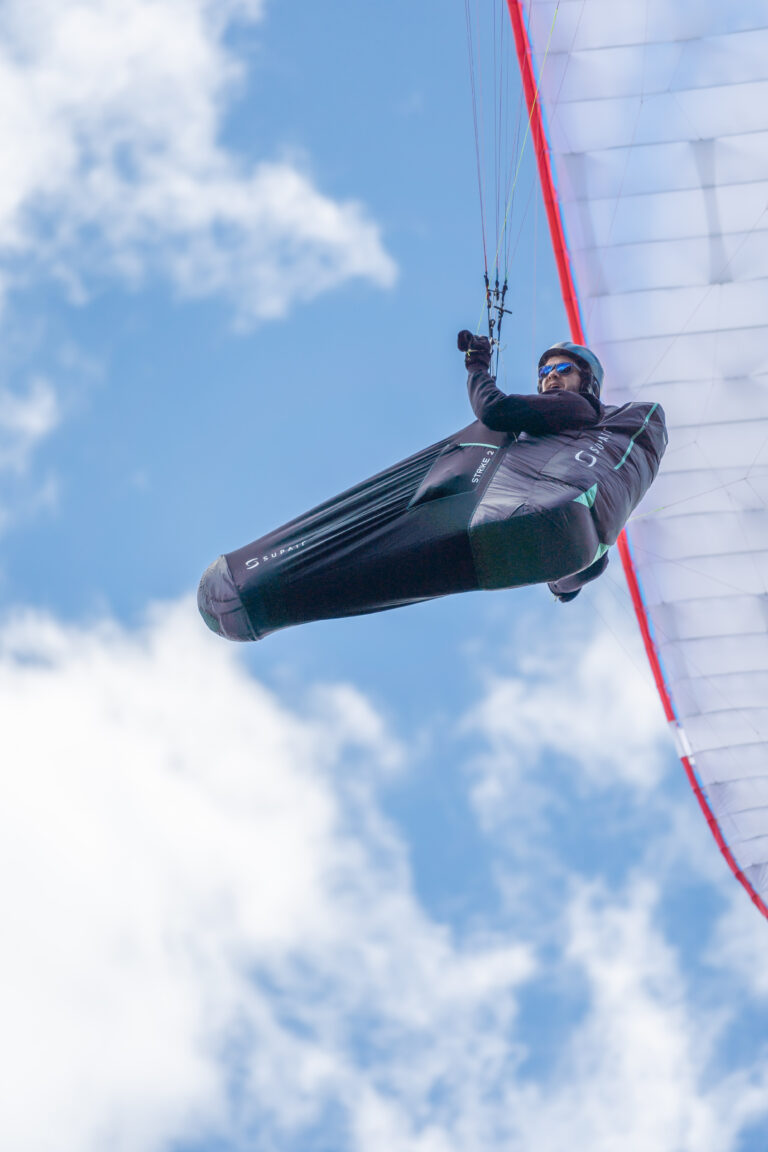 We hope our tips and tricks will help you fly more serenely whatever the season!
So, do you want to fly in winter?