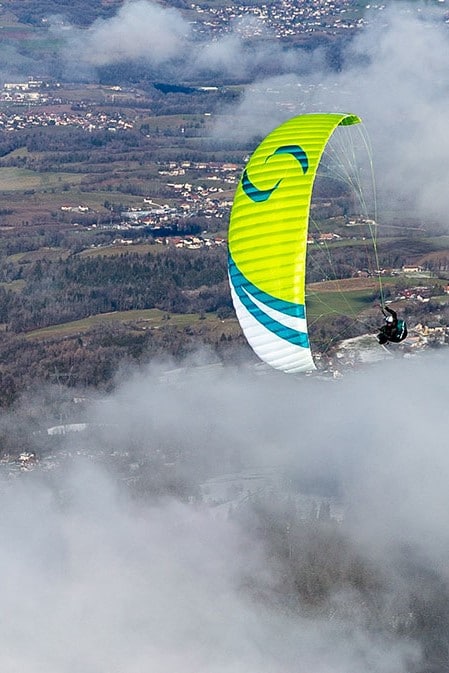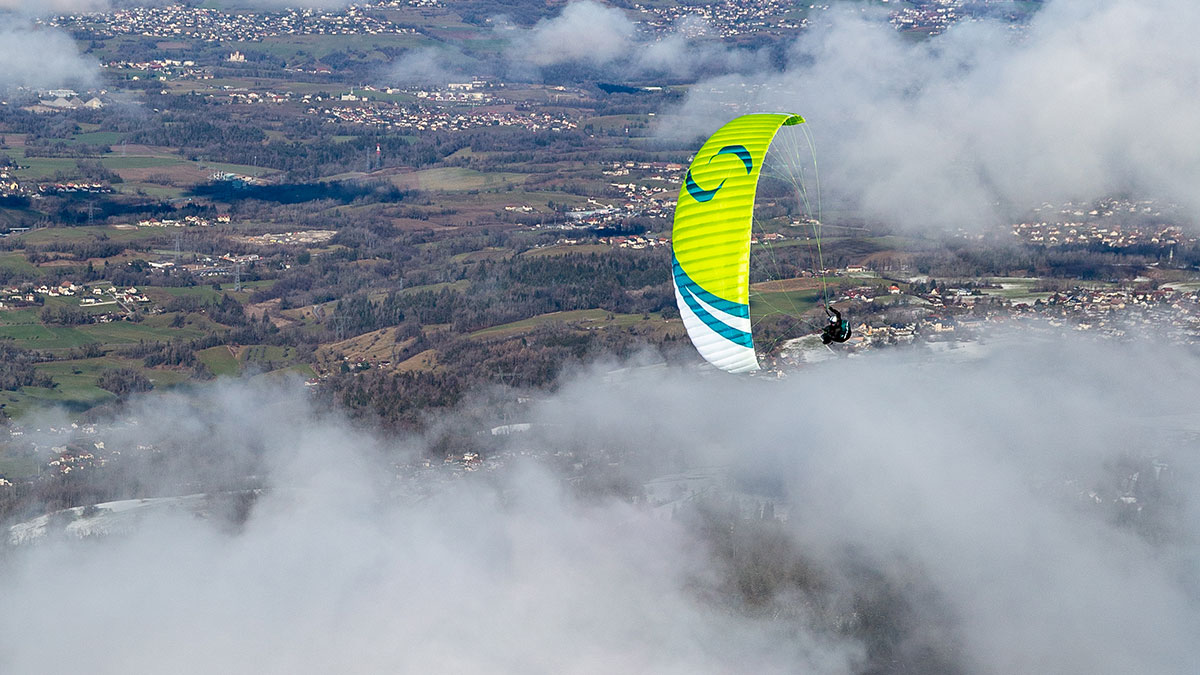 The EONA 3 is the ideal glider for beginners at paraglider. Safe, fun and robust, it will be your faithful ally in discovering the joys of flight.

Category: EN-A
Weight : 5kg in M
Practice
On-site flight

Cross Country

Hike and fly

Tandem
Frequency
Occasional

Regular

Professional
Level
Novice

Intermediate

Seasoned
Accessories included

backpack

Inner bag

Speed bar
About the EONA3
EONA 3 is the new glider school of SUPAIR. Our team at design has used feedback from schools using the EONA 2 to propose a glider that best meets the criteria of a glider school.
Designed to last, it benefits from reliable and robust materials. Our aim has been to simplify the model as much as possible by reducing the number of lines and giving priority to its ergonomics. The EONA 3 is very stable in both pitch and roll, making it safe for the pilot and easy for the instructor to predict. 
In school use, the easy inflation, without any hard points or overshoot, combined with an excellent grip, immediately gives the students confidence and accompanies them throughout their progress to lead them to success.
As with the EONA 2, the risers are colour-coded for easy identification of the left and right sides. The risers are also equipped with the ergonomic ear kit of the EONA.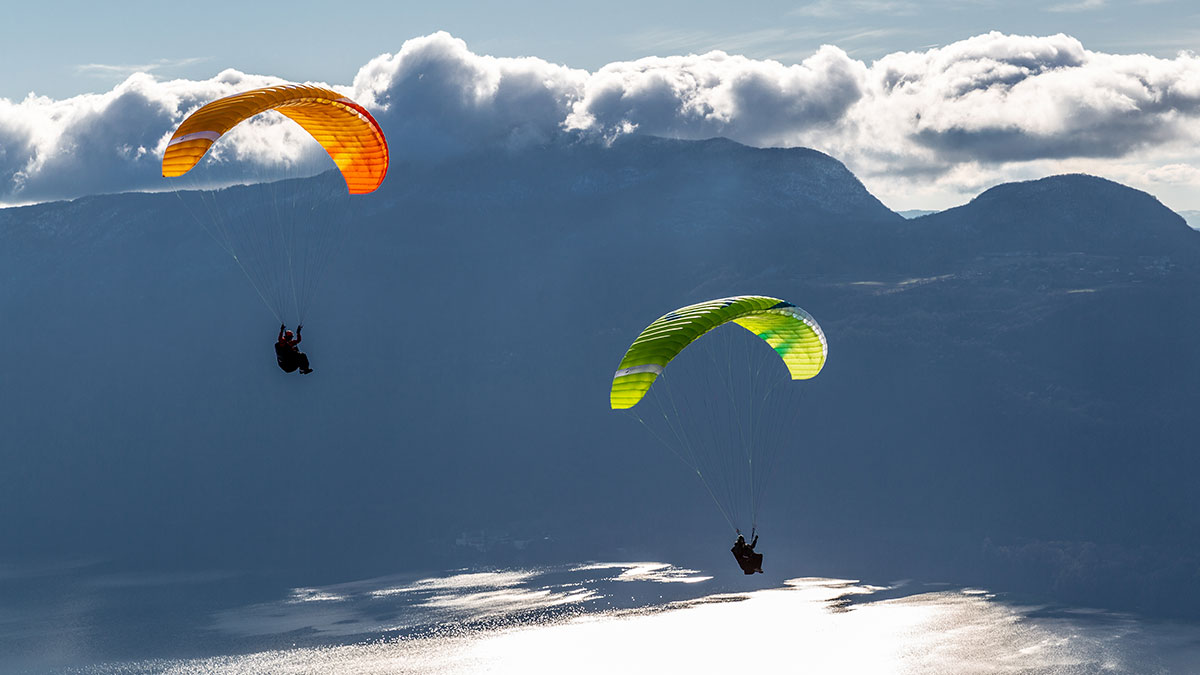 Features
Beginners and up
Inflation and training slope
Take-off on foot or by winch
Long-lasting rushes
Wingtip dumping system
Exclusive ear kit
Topside fabric: Dominico D30 soft
Underlay fabric: Dominico D20 soft
Fabric Ribs / roads suspended : Porcher Sport Skytex 40 Hard
Compression bandages and Ribs / roads D : Porcher Sport Skytex 40 Hard
Ribs / roads unsuspended : Porcher Sport Skytex 40 Hard
Ribs / roads reinforcements: Porcher Sport Ripstop self-adhesive 50 mm
Upper lines : Liros
Mid lines : Edelrid
Lower lines: Edelrid
glider EONA 3
Trek130 rucksack
Inner bag (glider)
User's manual
Repair kit
Speed bar
Compared to the EONA2 :
Less roll thanks to work on the arch and twist
Line set simplified, the reduced number of lines allows for easier untangling and greater performance
We have modified the XS and S sizes of the Eona 3 by surfacing them more to make them more rollable and less dynamic.
Internal structure is laser-cut, for greater assembly precision.
A large tension band has been added between the "C" and "D", increasing the travel at the controls.
The airfoil is new, and allows for more even inflation without overshoot.
New exclusive Supair attachment points, manufactured with a new braid, allowing breakage values of 20% above the EN standard for size L.
5 sizes covering 50 to 130 kg
4 colours with 1 colour including white
Technical specifications EONA 3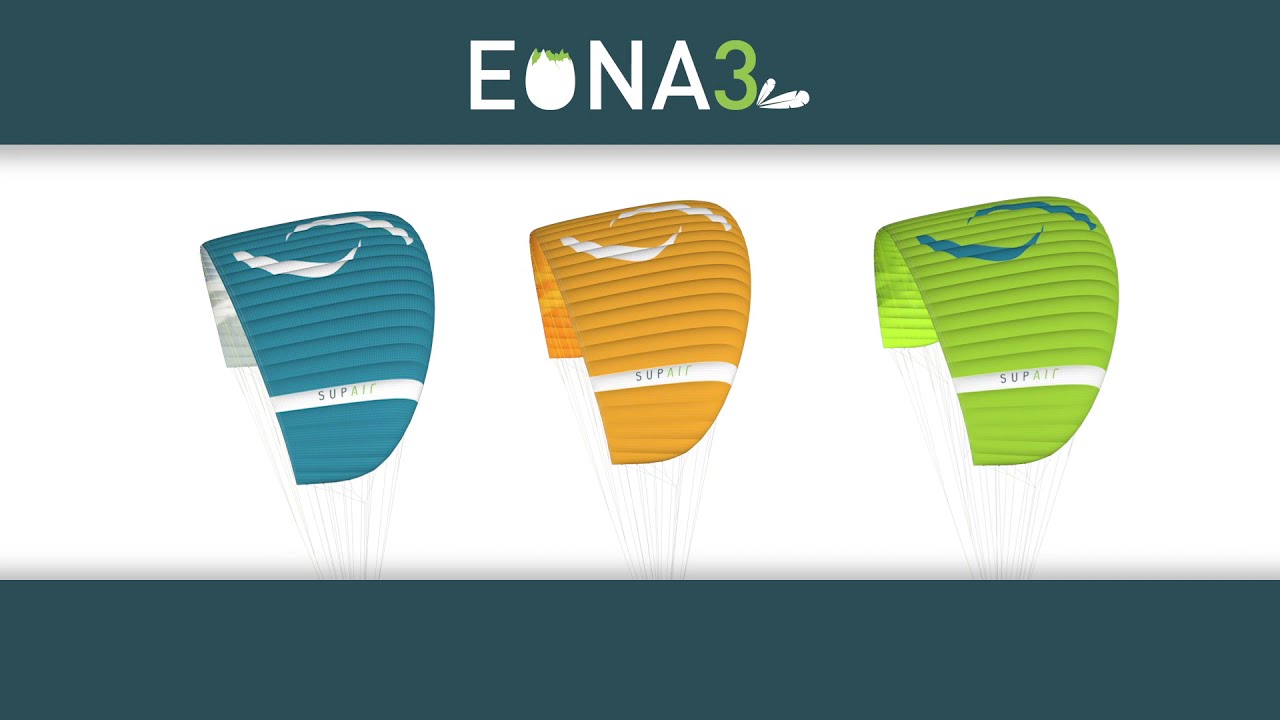 EONA 3 - Beginner Course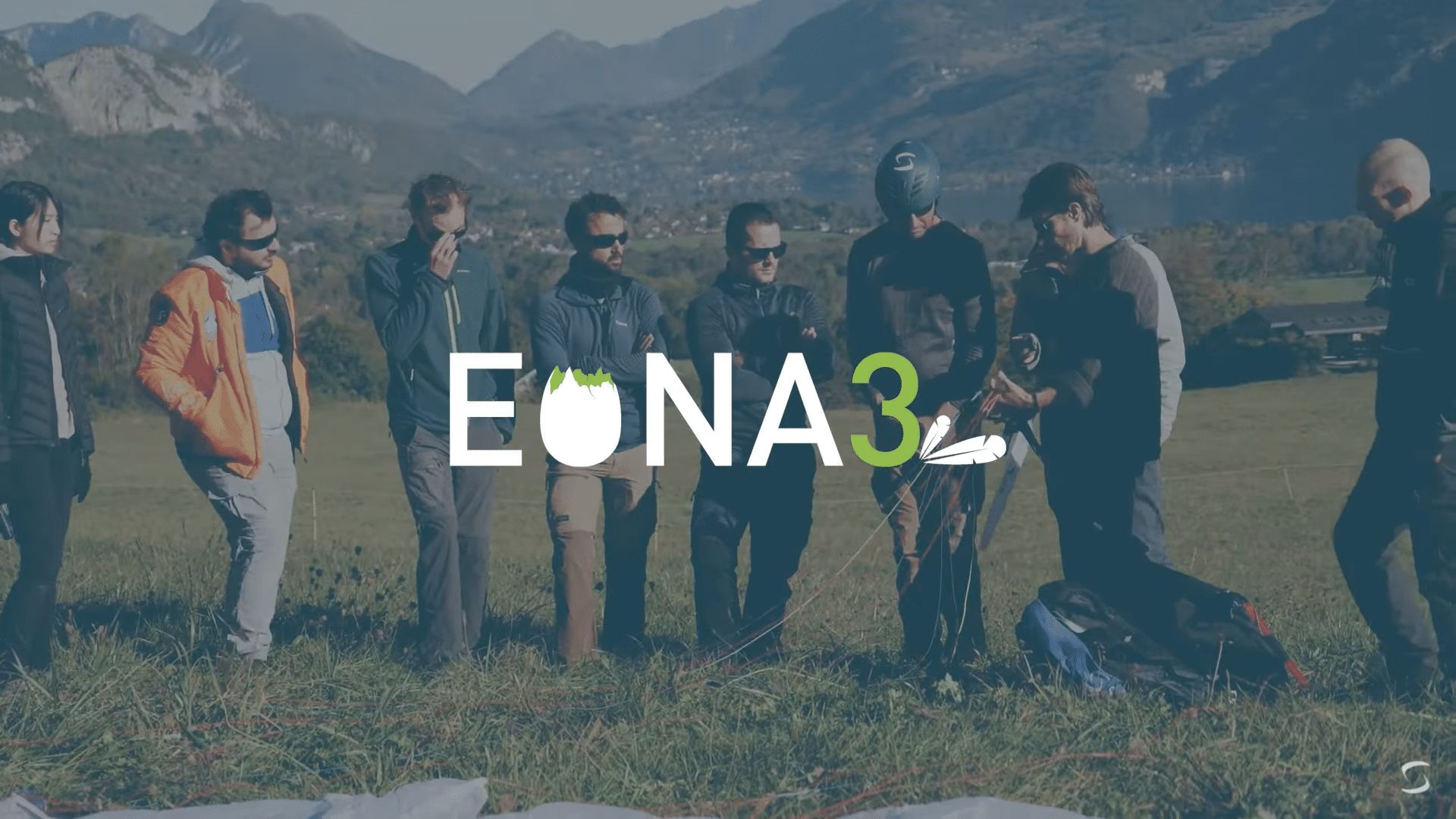 EONA 3 by Raul Rodriguez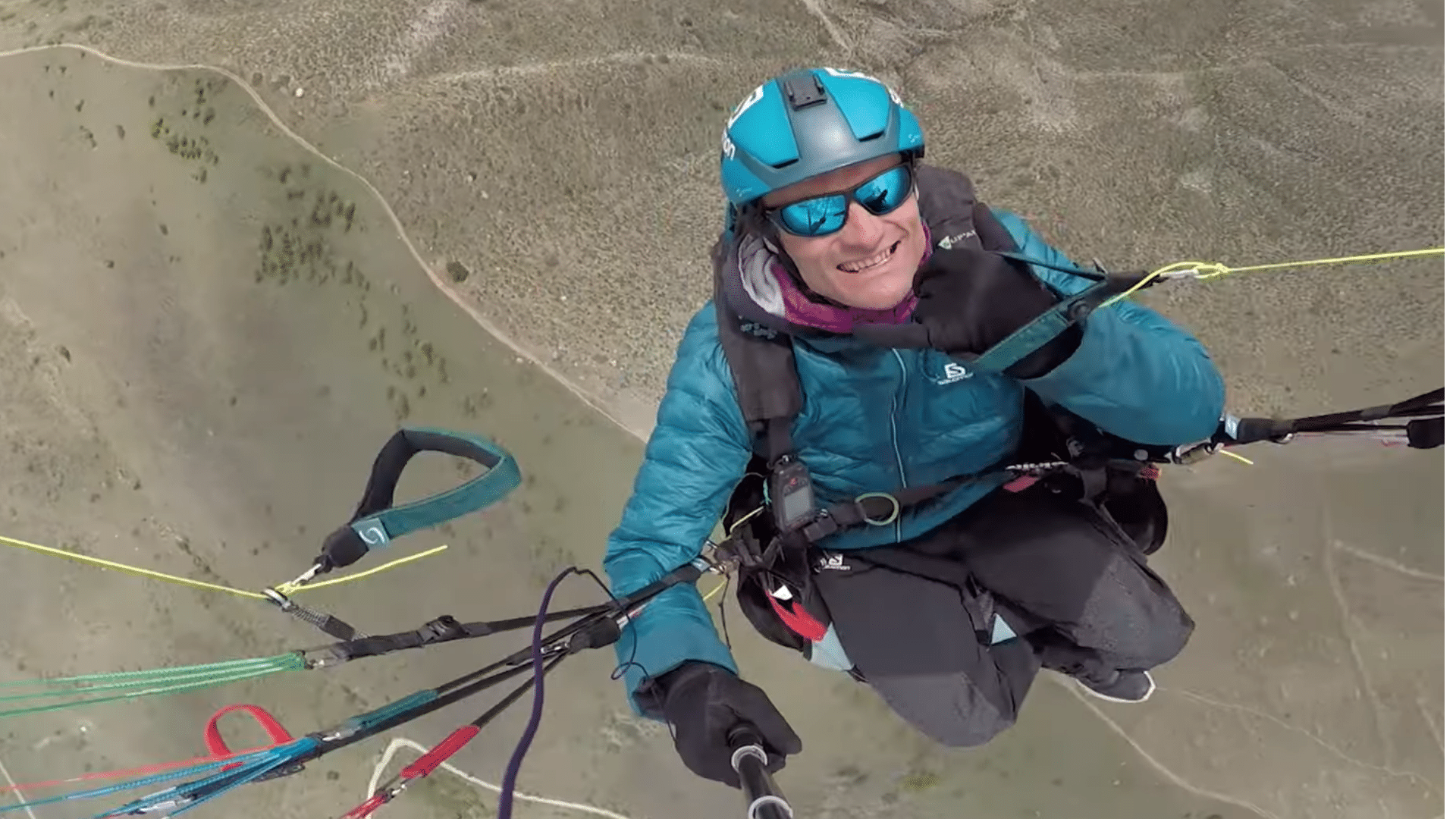 Technical data
| EONA 3 | XS | S | M | M/L | L |
| --- | --- | --- | --- | --- | --- |
| Number of cells | 38 | 38 | 38 | 38 | 38 |
| Flat area (m²) | 21,8 | 24 | 26.60 | 28.70 | 31 |
| Wingspan (m) | 10.23 | 10.73 | 11.3 | 11.74 | 12.2 |
| Chord (m) | 2.65 | 2.78 | 2.93 | 3.04 | 3.16 |
| Flat aspect ratio | 4.8 | 4.8 | 4.8 | 4.8 | 4.8 |
| Projected area (m²) | 18.59 | 20.46 | 22.68 | 24.47 | 26.43 |
| Projected span (m) | 8.14 | 8.54 | 8.99 | 9.34 | 9.7 |
| Projected aspect ratio | 3.56 | 3.56 | 3.56 | 3.56 | 3.56 |
| Glider Weight (kg) | 4.4 | 4.7 | 5 | 5.4 | 5.7 |
| Weight Range (kg) | 50-70 | 65-85 | 80-105 | 90-115 | 105-130 |
| Speed with arms high (km/h) | 38 | 38 | 38 | 38 | 38 |
| Maximum speed (km/h) | 48 | 48 | 48 | 48 | 48 |
| Homologation | EN 926 - 1 and 2 & LTF 91/09 - Class A | EN 926 - 1 and 2 & LTF 91/09 - Class A | EN 926 - 1 and 2 & LTF 91/09 - Class A | EN 926 - 1 and 2 & LTF 91/09 - Class A | EN 926 - 1 and 2 & LTF 91/09 - Class A |
| Number of risers | 3 | 3 | 3 | 3 | 3 |
| Trim | not | not | not | not | not |
They talk about it
"The search for performance is clearly visible with the use of a light Shark Nose with 2 crossed rings at the leading edge, the reduced drag of the lines and the use of tension bands between the C and D. The EONA 3 is built to last. Supair's new attachment points are used on this glider, which can carry up to 20% more load. Supair has chosen a durable Dominico fabric on the upper surface, cut with the latest technology at The cut which guarantees an exceptional finish and strength. The replacement for the EONA2 is very stable in all axes, perfect for beginners pilots. The take-off behaviour of the EONA3 is extremely easy. The glider has no tendency to overshoot and takes beginners into the sky in a very simple way. This glider will accompany you safely through your first years as a paragliding pilot and give you a lot of fun. It is also suitable for safety-conscious frequent travelers who appreciate maximum passive safety."

Chris GEIST - Paragliding Academy
Gallery